Pro-Wresting: Jack Wright, Evan Lipson, and Ben Bennett piledrive traditional jazz
From Creative Loafing's Crib Notes
As a child of 1940s and '50s Pittsburgh, saxophonist Jack Wright has grown into quite the Pennsylvania pine of a musician, repeatedly uprooting himself and traveling the globe to share his wares. Although the mysterious Wright would wander away from music in the '60s, he would rediscover it in the late '70s, eventually playing with such free improv musicians as William Parker, Bhob Rainey, and Tatsuya Nakatani. Wright has sought out many different collaborators during his musical career, but on the occasion of his upcoming visit to Atlanta, he will be joined by Chattanooga bassist Evan Lipson and Columbus, Ohio percussionist Ben Bennett in what is known as the Wrest Trio. Invoking the crafty interplay of classic Evan Parker/Barry Guy/Paul Lytton recordings, the Wrest Trio swoops in and out of an improvisation like three seagulls vying for the same piece of bread. And eventually they all get it from different corners and simultaneously fly away.
If you're feeling adventurous, check out Ben Bennett's Bandcamp page and take a listen to his explosive solo digital album Spoilage, mastered by the prolific James Plotkin. The Wrest percussionist's brash, active style will delight fans of Lightning Bolt or Han Bennink, and many of those into the lo-fi International Noise Conference scene. Bennett is creative with his instrumentation and specific with his descriptions, performing on such sound-making devices as the "mason jar ring with latex glove stretched across it," "camp cook set," and "the narrow part of a balloon." The energy here is irresistible.
With Duet for Theremin and Lap Steel, and Robert Cheatham. Fri., April 12. $8. 9 p.m. Theater at the Horizons School, 1900 Dekalb Ave.
Text
tagged as: jack_wright wrest_trio ben_bennett evan_lipson robert_cheatham duet_for_theremin_lapsteel
A video about John Zorn's Cobra. Come see it tonight as part of Chamber Cartel 11 at  Poem 88. 8pm / Donations
The Robert Rauschenberg Foundation, an organization dedicated to the risk taking, innovation and collaboration that were its namesake's values, has inaugurated a program whose mission is to invest in smaller arts organizations in five selected cities.

Good news: SEED, as it is called, will take root in Atlanta. The foundation has awarded five local organizations three-year grants of $10,000 per year. The recipients are Dashboard Co-op, Eyedrum Art and Music Gallery, gloATL, Living Walls and The Lucky Penny.

Congratulations to our fellow grant recipients! And thank you to The Robert Rauschenberg Foundation! So incredibly grateful and proud of our city.
It's a great day for arts in Atlanta!
Scraping Teeth won Spin Magazine's Worst Band in America Contest in 1995. They're playing tomorrow at the Big Haus with Holly Hunt and Ian Deaton.
(by sxd)
Shots from Endangered Blood's set last night at the Goat Farm. The group is Trevor Dunn Chris Speed, Oscar Noriega, Jim Black. All photos by Mark Greenberg.
Wikipedia: P (; named pee) is the sixteenth letter of the ISO basic Latin alphabet. →
Gashy and the Wounds play tonight at the Goat Farm with Magic Apron, White Gregg, Shriek Operator. Here Nick plays a tunnel show in a video filmed by creativeloafingatlan.
Tonight is Invent Room Pop 7 at Beep Beep. The lineup tonight is Klimchak, Nathan Brown, Jennifer Rarick, Missy Lumina, Derek Poteat and Jack Block. 
This video is Klimchak and Stuart Gerber as part of Art on the Beltline last year.
Video
tagged as: invent_room_pop klimchak
This month's installment of Invent Room Pop features an out of town guest, Derek Poteat, formerly of the Ahleuchatistas. Here's a sample of what he's up to.
Video
tagged as: ahleuchatistas derek_poteat invent_room_pop derek_poteat
Interview with Roedelius By Doug DeLoach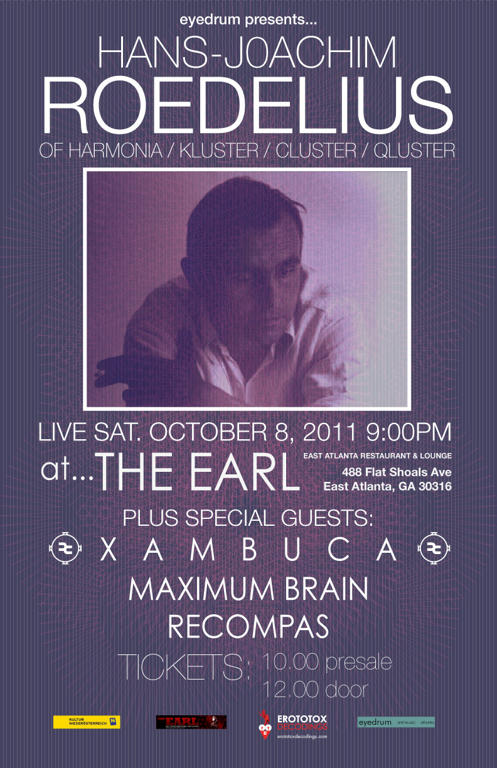 Co-founder of Cluster (nee Kluster) and Harmonia, collaborator with Brian Eno, Dieter Moebius, Michael Rother and Conny Plank, self-taught electronic music pioneer and veteran of the Berlin underground music and art scene since the 1960s, 77-year-old Hans-Joachim Roedelius makes his Atlanta debut at the Earl on Friday, October 8. Opening for Roedelius will be Xambuca, Recompas and Maximum Brain.
A multimedia collective formed in San Francisco and now based in Asheville, NC, Xambuca is led by Chandra Shukla whose resume includes collaborations with Squirm, Scribble Seven (Nurse with Wound), Psychic TV and, as they say, a whole lot more.
Recompas is a psych / kraut rock band with an ever-changing lineup, revolving around mainstay Travis Thatcher.  This show will feature Blake Helton, Jon Lukens and TJ Blake.
Maximum Brain is a new collaboration between Mason Brown (Brainworlds) and Matt Cherry (Maserati, Maximum Cherry). This show will mark the duo's debut performance.
The following interview with Roedelius was conducted via email in September 2001 and appears courtesy of veteran Atlanta-based music writer Doug DeLoach.
DD: Please describe the music you are playing on this tour including a brief description of the instrumentation you will be playing.
HJR: Instruments are a mikro-KORG, a Nordstage 88, pre-prepared sound materials of many different kinds on CD-Rs to be played from three CD-players; these materials will be arranged and mixed in the very moment of the performance – improvised, as always.
DD: From the standpoint of an artist who has worked in various genres and across generations, please describe how the role played by your music has changed depending upon the setting and the period during which it was being made.
HJR: It hasn't changed since the beginning at all neither ingredient-wise nor in the way of doing it (improvisation). It's only much easier nowadays because I don't have to carry heavy gear.
DD: Have you always been conscious of the potential consequences of the music you make regardless of whether the performance is improvised or structured in some way?
HJR: Yes I was, although, in the beginning, not really, but more and more during the many years of my experience. Even so, it was not my aim to change the world of music; I just had to do it my way, because there was none other.
DD: Do you create music solely based on what you "hear" in your mind's ear or is there (sometimes or always) an end result you are trying to achieve?
HJR: I try to achieve what I feel needs to be achieved when I start from point zero. What then develops "itself" comes from its own structure out of the moment of creation. I can't say "what I hear in my mind." I don't hear anything in my inner ear before I start to compose/improvise.
I have to make it, to listen to it whilst doing it, to become aware of whether it's becoming a relevant piece of tone-art or not.
I have to fulfill a dream, a vision. Each piece of music I create is a surprise for me, still — even now after more than 40 years of practicing.
DD: Are terms like "avant garde," "mainstream," "pop," "ambient" and so on, any more or less relevant today than they have been in the past?
HJR: That's not my thing. I'm living in and creating out of my solitude.
DD: When we (the listening audience) attend one of your concerts, what are some of the things we will NOT hear? What WILL we hear?
HJR: You will hear an originator. You will listen to authentic music.
DD: You are often credited with being one of the founders of electronic music. At the same time, you have described your evolution as a musician as being somewhat of an accident or product of simply learning how to play.
HJR: Yes this is the truth. My music comes out of a process of constant learning how to create tones and sounds, complex structures, how to work with those to compose what I LIKE. 
DD: Informed by knowledge and honed by experience gathered during decades of performing and collaborating with other artists, how do you see your position in the history of music?
HJR: I did what I had to do become aware of the fact  that I am a human being who has to understand and reflect in his art how important it is in life to find ( back? or forward ?) the real values of life. I'm always saying I'm not a composer; I'm a philosopher, a writer, a poet who works with tones/sounds to explain where he belongs, ethically speaking.
DD: In the earliest days, did you see what you were doing as something especially adventuresome or ground-breaking?
HJR: Adventurous yes, because I knew nothing about music either theoretically or practically.
I was physiotherapist/masseur before, so I had to go every single step to become aware of what I needed to do. I had to practice/learn hard to be able finally to do relevant art, to know where I'm coming from and where I have to go.
DD: When did you first realize you were going to commit yourself to a career as an artist? Have you ever regretted the decision?
HJR: The moment when I decided to become an artist was in the late Sixties, I knew: That was it, there was no doubt at all.
I'm very happy that I was able to continue after I started to get into it, because I couldn't make my living out of it for about more than 35 years. Sometimes I was close to give up.
I don't regret anything at all now after all these years, all those positive reactions from so many people/fans all over the globe, all those recordings — almost 170 CDs/LPs with my name on it, countless concerts, readings, performances etc.
DD: Why has the name Qluster stayed with you throughout the years? Does it hold special meaning or value? Does the change in spelling from "Cluster" or "Kluster" to "Qluster" have any significance or is it just whimsical wordplay?
HJR: It's not whimsical at all. Kluster/Cluster is a special scientific topic. We chose it to describe the way how we were approaching improvisation/composition. Kluster/ Cluster was based on agreement, understanding, friendship, idealism. Intellectually, it was based on the change of paradigm that came with the change of the millennium.
I think we were born into a very special situation as a sort of medium for the announcement of the new paradigm of the 21st millennium. Open-minded, we had to reflect the arrival of a broader awareness how to live a reasonable life, respectful of the dignity of all that exists. Lucky us.
As for Qluster: Sounding like Cluster, the same principle: Improvisation in the moment with whichever equipment is available, but with new personnel, Onnen Bock and others, instead of Moebius who left Cluster end 0f 2010.
DD: In terms of personal listening habits, what do you enjoy?
HJR: There is not much time for me to listen to music, besides doing it myself. I'm only listening accidentally to other people's music mostly whilst driving my car. Nothing special, but, in general, I like more and more classical music very much. I especially like music from Eastern Europe: Smetana, Janacek, Dvorak, Bartok, Chatchaturian, Mussorgsky, Tchaikovsky, Rimsky-Korsokov, Stravinsky. And not to neglect to mention the Americans: Bernstein, Ives, Gershwin, Rodgers and many others.
Text
tagged as: roedelius doug_deloach recompas xambuca maximum_brain
Tonight is the 5th installment of Invent Room Pop. Number 5 features Lance Higdon, Caleb Herron, Amber O'Neill, Casey Battaglino, Brandi Turner, Shitty Bedford.
This video is Caleb Herron performing Xenakis' Rebonds with choreography by Rose Shields.

Video
tagged as: caleb_herron xenakis invent_room_pop
Sudden Infant plays tonight at 529 with Mr. Natural, Bryan Lewis Saunders and Hopi Torvald. This video is from Ground2 in The Hague, Sep 2007.
Video
tagged as: sudden_infant bryan_lewis_saunders hopi_torvald mr_natural
Bryan Eubanks recently released desired climate works #36 on the web label Homophoni, run by Atlanta's own David Kirby. He's playing a satellite show at Elliott Street Pub tonight with Jason Kahn and Lindsay Smith.
Audio
tagged as: homophoni bryan_eubanks david_kirby
Part awkward blind date, part falling-in-love music making
By

Jon Ciliberto
|
Aug 24, 2011
Improvisation lies at the heart of music, and, in the words of Derek Bailey, "improvisation is present to some degree in almost all musical activities." Before any piece of music is composed, it is imagined, and imagination and improvisation are siblings if not twins.
The Invent Room Pop series grew out of the venerable Kirkwood Ballers Club, now legendary as an incubator for Atlanta musical explorers. While that 20-minutes-on-stage free-for-all thrived for years in multiple venues, "the scene that supported the original incarnation of Kirkwood Ballers doesn't exist any more," says Robby Kee, Eyedrum's executive director, and this led to the Invent Room Pop series.
Curated by Kee and held at Beep Beep Gallery on the third Friday of each month, the series throws together six local musicians, from whom randomly chosen duos and trios perform five improvisations. While largely free in form, it has some nuanced edges. Recognizing the dude-heavy nature of local experimental music, Kee requires each complement of musicians to include two women. "It changes the whole dynamic of the shows and has made them a lot more interesting," he said.
The series is intended to create unexpected companionship and results. "One of my overall goals for the series is to introduce people from different musical circles in hopes that they start new bands," Kee explained. In this, too, the series resembles Kirkwood. For years, with few local venues for experimental music and noise, players had few means to meet, connect and form groups.
I've attended a couple of installments, and they are loose-fitting events, part awkward blind date and part falling-in-love musical conversation. The musicians are pulled mostly from the youngish indie-alt-rock and noise crowd, but with attention to mixing surprising elements — which I hope widens and continues. One goal is to prevent the series from turning into a bunch of guitarists leaning on distortion pedals, or the standard guitar-bass-drums band.
This past Friday featured Chris White of Magicicada (electronics), Matt Jarrard of Oryx & Crake and Book Club (space cello, or cello plus digital delay), Jared Stapleton (guitar), Aaron King of el Fossil (guitar), Jessica Sherwood of Sonic Generator (flute), and Danette Haser of Akuyou (voice). Arriving just after the scheduled starting time, I found the room mostly empty, containing only the organizers and (most of) the musicians. "It's not starting 'til the beer arrives," I heard several times. That was the primary delay. Second was the absence of the gallery's owner, who knew how to operate the lights.
Across the messy gallery space were five clear musician zones: guitar amps, a cello and chair, many, many effects pedals strewn about, as well as White's ubiquitous sprawl of devices. While waiting for the beer, owner and audience, I chatted with talented local musician Klimchak about improvisation. Klimchak plays innumerable percussive instruments, the theremin and quite a few other things besides, and he composes music for the Center for Puppetry Arts and Georgia Shakespeare.
I was surprised to hear that he believes the mind operations behind composition and improvisation are completely distinct. "If I had an EEG connected to my head, you'd see entirely different areas of my brain lighting up while composing than while improvising," Klimchak declared.
The appearance of certainty is, for me, an invitation to inquiry; I wondered why he felt that the mind-set of a musician differs with the two activities. While I think there is a clear difference between performing a piece of composed music and performing something improvised, to my mind the aspects that inform composing are very similar to those that guide improvising. In each case, an emotional/mental/physical action occurs at each instant, as music is revealing itself, and the composer/improviser chooses where to go. Improvising leaves far less time to consider the options. In a typical composition, rejected ideas are never heard: in improvisation, everything gets heard.
It is this high-wire, no-net quality that gives musical improvisation some of its thrill, for performers and listeners alike. When the performers soar and flip in mid-air and coolly toss one another about, the crowd goes ahh. When they fall, however, and fall into static jamming, the crash is audible.
Last Friday's performance had some of both. The initial grouping paired Chris White with Matt Jarrard. Both were concerned about the overly bright lighting, with White scaling walls and unplugging things trying to get a more soothing ambience. That failing, they got down to music in a direct fashion, White bringing out an expected drone base, building with Jarrard's space cello to an ostinato passage. A period of wobbling followed, a delay loop area with a broad sense of space. It was an easy-listening opening salvo, a room warmer, and also typical of first-time duet improvising: both went to familiar places.
Improvisation No. 2 put together two guitars and a flute (Stapleton, King and Sherwood), leading to some uncomfortable moments. While the flute wanted to play lyrically, one guitarist was stuck between two chords, while the other, with his back to the other musicians, leaning over his effects pedals, made train-like noises through a long delay. Delay pedals (and special effects generally) are a terrible crutch to improvised and experimental music. In a later improvisation, I was pleased to hear a "no delay" rule called out.
Sherwood was brave to throw herself into improvising with electric, amplified musicians. She should have had a microphone herself, since the loudest that a flute can play is peep-quiet next to a guitar amplifier, and the loudest flute playing can only sound shrill. She gamely tried to keep up, but the gradual rise in volume from the guitarists, in addition to obscuring the flute, couldn't hide the lack of ideas from this grouping.
Vocalist Haser was next paired with King, and the presence of a singer probably (and thankfully) shut down continued amorphous and inchoate attempts. They started out with a noisy, punkish caterwauling, until, alas, the guitarist again grew louder and louder, off on his own trip, until the vocal was overwhelmed. In a duet improvisation (or any duet), playing so loudly as to render it a solo is, to me, unforgivable. Group improvisations are built by listening to others. In Bailey's words again, "[T]o improvise and not be responsive to one's surroundings is a contradiction if not an impossibility."
I think that improvisers are sometimes shy about doing something standard: song structure, fixed rhythms, melodies, harmonies. The fourth improvisation, between White and Stapleton, started right off the bat with unapologetic, stridently hard-rock power chords. Simplification served the duo well. White nimbly shifted from the beginnings of electronic drone to — picking up a microphone — screeching cock-rock vocals. This was fantastic, a great lift to the energy level in the improvising.
Throughout the evening, the general level of confidence rose. "I [only] wish we could have gone longer….," White lamented. "It seemed like the dialogue was just beginning when we cut the conversation." Also, the musicians seemed to grow more comfortable with letting one another have audible space, the worry fading that, to the audience, silence might equate with a lack of ideas.
The final improvisation of the evening, a trio of cello, voice and flute, was dark, quiet and moody, with a continual pulse rhythm generated by some bow noise from the cello, delay-looped. Although the words were hard to discern, the tone and delivery was spot-on to the music, and the relative quiet of the cello and flute allowed the voice to reside in various zones, not just the screaming required against amplified guitar. The whole room seemed to fall into the slightly haunting, very nicely connected trio sound.
One thing I notice about improvisation is how much more taxing it is for the musicians than the audience, when compared with composed music, and much more so when the improvisers are unfamiliar with one another. Put another way, there is a bonding quality that occurs when improvisers get together that seems significantly greater than when composed music is performed. I suppose this is completely unsurprising, because improvising musicians have nowhere to turn but to one another, while those performing a score can bond both with it and with one another. For improvisers, this forced camaraderie takes many forms: shy awkwardness, thoughtless chattering, delight in having someone to play with, mutual learning, sharing of ideas, finding new places to play together.
In contrast to this facing-inward aspect of improvising, the presence of an audience places immediate pressure on the performers, and thus the audience plays a far greater role than in the performance of composed music. Musicians are social animals, far more so than writers or visual artists, something that is obvious from the collaborative possibilities. The final improvisation expressed this well, and after the last applause, the trio continued chatting about the piece, while I heard Kee and Nathan Brown, discerning promise, wondering aloud whether a band might form out of this grouping.
Later, as the audience filtered out, with the former strangers grouping in twos and threes, I saw them trading musical war stories from the road, suddenly close in an unexpected way, a bit like basketball players joined in a pickup game, previously strangers, chatting together after a win made possible only by teamwork and thinking on the spot.
The next installment of Invent Room Pop, at Beep Beep, will be on Saturday, September 17, instead of Friday, to avoid a scheduling conflict. The lineup is pending.
Link
tagged as: invent_room_pop jon_ciliberto
Pregnant's EP Life Hard : I Try. He's playing at the Music Room tonight with Alak, Nomen Novum and Easily Suede.